Governance
The Trust is established in line with Department for Education requirements and consists of 5 Members and 10 Trustees whose names can be found below.
At the bottom of the page, you will find documents pertaining to the work of the Trust Board. Each school within the Trust has their own Local Governing Body (LGB) which reports to the Danes Educational Trust Board of Trustees. Each body has specific Terms of Reference that ensure good governance practice at all levels.
At both Trust Board and LGB level, there are two committees and several other areas of responsibility. Each of these areas and committees has a Lead Trustee or Lead Governor and a Professional Adviser from within the Trust or individual school.
The diagram below outlines the structure and lines of communication: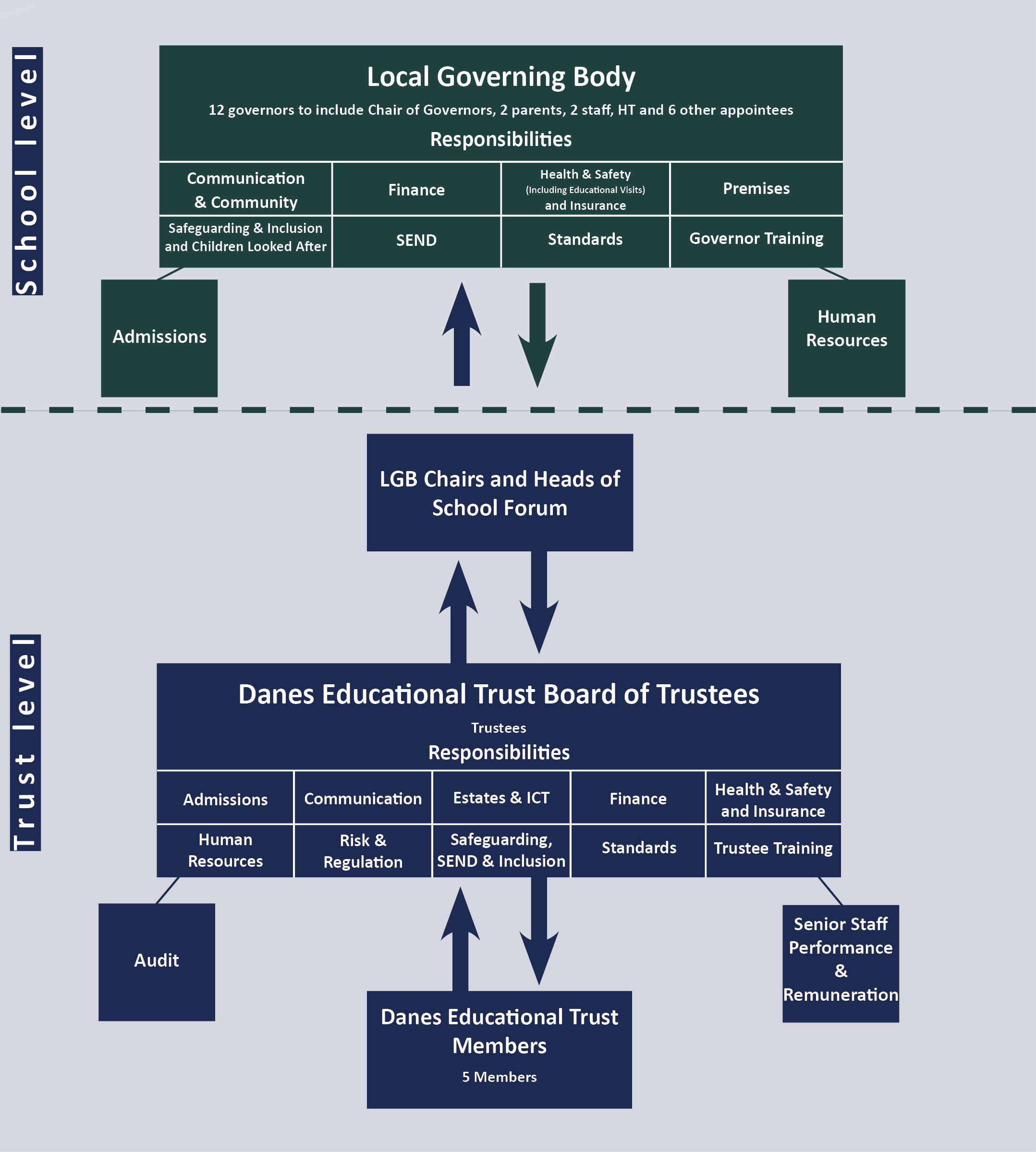 Our members and trustees are a committed and talented group who bring a wealth of experience with which to support the Trust. Many have worked with St Clement Danes for a number of years, supporting it through huge changes, both in terms of the educational landscape and the buildings of the school itself.
Below you will find further details. Those members and directors marked with an asterisk are also trustees of the Holborn Estate Charity (HEC).
Members of the Danes Educational Trust
HEC appointees:
Mrs Linda Clarkson* (Chair of Members)
Mr Ray Beaglehole*
Mrs Rosemary Hadfield*
From the Danes Educational Trust Board:
Miss Rosie Faunch
Mrs Kath Unger
The Danes Educational Trust Board - Trustees of the Danes Educational Trust
Member appointees:
Miss Rosie Faunch (Chair of the Danes Educational Trust Board)
Mrs Kath Unger
Co-opted (by Trustees):
Mr Nils Blythe
Mr Michael Bruce
Mr Darren Franklin
Mrs Rachel Gauke
Dr Malcolm Green
Mrs Louise Soden
CEO:
Dr Josephine Valentine