Governance
The Trust Board adheres to the Articles of Association of the Trust and each sub-committee to the Trust Board has specific Terms of Reference that ensure good governance practice at all levels. Each school has a 'School Board', which is one of the sub-committees, and as such reports to the Trust Board of Trustees. At the bottom of the page you will find documents pertaining to the work of the Trust Board.
The diagram below outlines the current structure and lines of communication: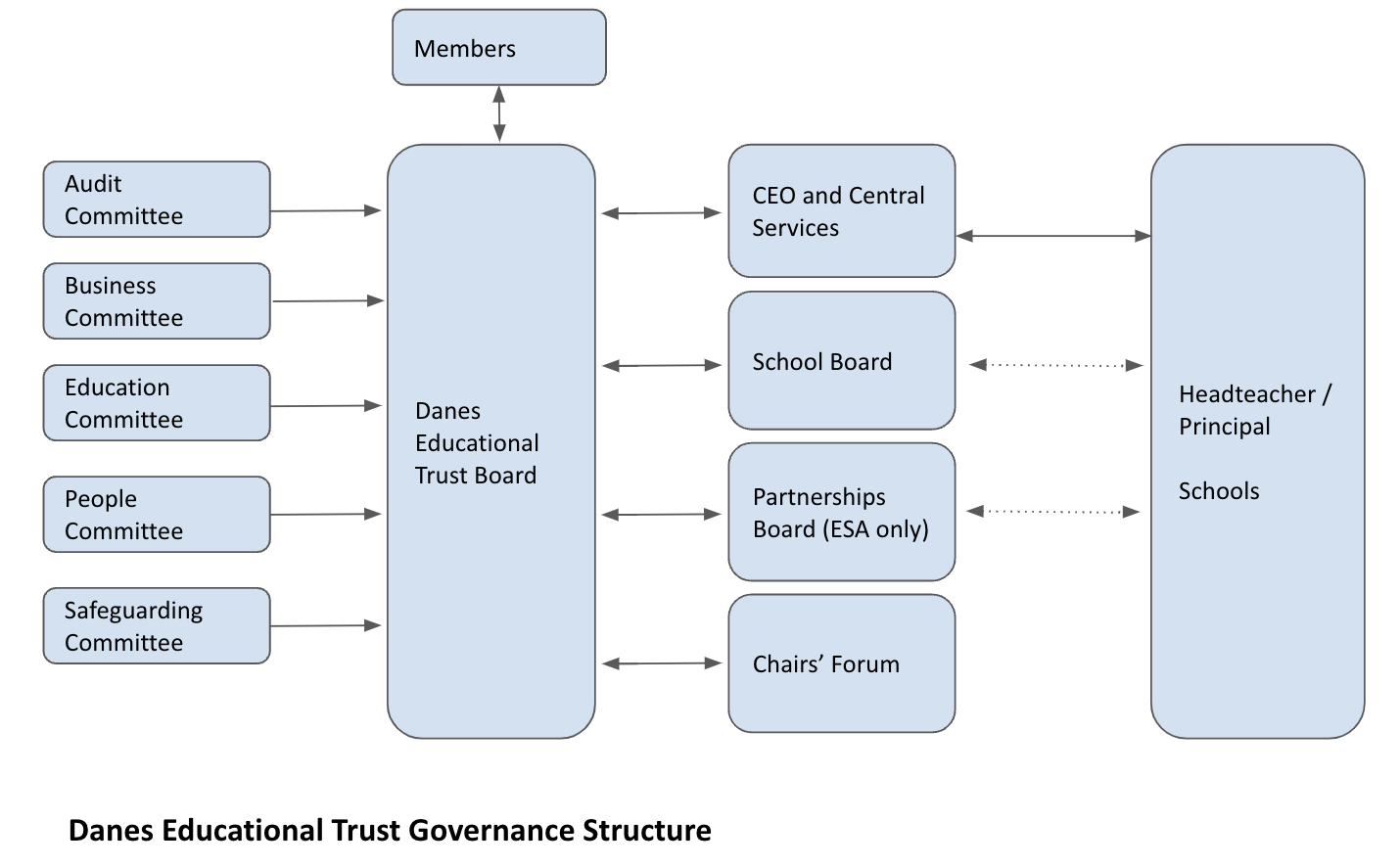 Our members and trustees are a committed and talented group who bring a wealth of experience with which to support the Trust.
Below you will find further details. Those members and trustees marked with an asterisk are also trustees of the Holborn Estate Charity (HEC).
Members of Danes Educational Trust
HEC appointees:
Linda Clarkson MBE Chair of Members
Education & Management
Chair of St Clement Danes Academy Trust since opening in June 2011. Vice Chair of St Clement Danes School Charitable Foundation from 2007 – 2014.
Mike Bruce
Finance & Management
A former trustee, appointed as a member in 2019. Now retired, was formerly the Director of Information Technology at Moore Stephens LLP a firm of chartered accountants in London.
Rosemary Hadfield MBE
Education
20 years teaching in the UK and abroad in the primary sector. 30 years association with St Clement Danes as a parent, governor and formerly chair of governors. HEC Trustee.
From Danes Educational Trust Board:
Kath Unger
Human Resources
30 years in HR within the civil service before moving to the private sector in 2010 as HR Manager for a Hertfordshire based insurance broker. Associated with St Clement Danes School as a parent and then a governor from 1998 to 2012.
Rachel Gauke
Legal & Regulatory
Solicitor working at a legal publishing company, writing practical guidance for lawyers. Specialist in corporate tax law, with experience as a practitioner and professional support lawyer having trained as a solicitor at Linklaters LLP.
Danes Educational Trust Board
Member appointees:
Kath Unger
Vice Chair of Danes Educational Trust Board, Chair of People Committee, Chair of Safeguarding Committee, Whistleblowing
Co-opted (by Trustees):
Peter Allanson
Peter Allanson has worked for over 40 years in both the public and private sector, largely in governance. For ten years he was trust secretary and director of corporate affairs at Guy's and St Thomas' NHS Foundation Trust and is now a principal consultant for the Good Governance Institute. He lives in Chorleywood.
Nils Blythe
Chair of Business Committee
Executive Director, Communications, at the Bank of England (2011-2014), following a career at the BBC where, until 2011, he was the BBC Business Correspondent.
Martin Day
Chair of Danes Educational Trust Board
Semi-retired non-executive director and business consultant. After a long career in the finance industry he moved to the education sector, building international partnerships for Henley Business School and then developing provision of banking degrees at the former Chartered Institute of Bankers, where he was Managing Director. He is currently a Board member of ABE Global (an international provider of professional qualifications) and ICMP (a rock school offering degrees to the music industry) where he chairs the audit and regulatory compliance committees. He has also been a committee member of public bodies regulating the banking and higher education sectors.
Carolyn Garner
Currently UK Tax Manager for an international manufacturing company. An experienced finance professional, who has also served on the Board of Governors of an FE college during a period of expansion.
Kathryn Hardwidge
Chair of Audit, Risk and Compliance Committee
Currently the Group Internal Audit Manager at Jisc, the UK national research & education network. An experienced chartered accountant who has also served as the finance governor for Croxley Danes School.
Lynn O'Connor
A global diversity and inclusion specialist with over 20 years experience working in and with large corporate organisations in Financial Services, Oil & Gas Technology, Energy, Motor, and Insurance sectors which include HSBC, BP, Centrica, Perry Group and RSA.
Pankaj Shah
A senior business and regulatory programme manager until 2018 with over 25 years experience of project delivery and business change at major asset management and banking firms in the City. Qualified initially with Arthur Andersen as Chartered Accountant.
Paul Snell
A retired CEO with 17 years experience and a background in executive level HR and operations and development. Most recently with a charity that has been supporting people with learning disabilities, autism, brain injuries and complex needs for more than 35 years.
Dr Josephine Valentine OBE
CEO
Headteacher at St Clement Danes between 1998 and December 2017. NLE since 2008, providing school to school support for six secondary schools in Hertfordshire through executive headship or leadership coaching.
Chairs of Danes Educational Trust School Boards
Jan Buoy, Chancellor's School Board
Judith Thorn, Croxley Danes School Board
Steve Clarke, St Clement Danes School Board
Catherine Rendell, De Havilland Primary School Board and Onslow St Audrey's School Board
Abolade Odunsi, Ascot Road Primary School Board
Rob Carpenter, Lanchester Primary School Interim Action Board
Clare Charlton, Jupiter Primary School Board
Lewis Barton, Elstree Screen Arts Academy School Board